Chef Peter Klarman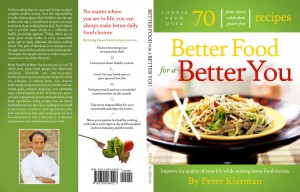 While overcoming difficult personal health challenges, I began learning about food and nutrition, and how to apply foundational health principles to creating recipes. Since completing a culinary training program over five years ago, I have worked in various restaurants in Louisville, Kentucky, and in the food service kitchens of Wild Oats, and Whole Foods Markets. In addition, I have been a personal chef for people with various health concerns, presented several food demonstrations locally and throughout the country, and worked with clients at the Center for Alternative Medicines to help them transition to a healthier food lifestyle.
Having tried different approaches to food, I realize the importance of empowering myself and others about making better food choices, the importance of maintaining a balanced body chemistry, lowering stress, and the positive impact(s) on quality of life. If we ignore improper eating habits and lifestyle, over time many of us will face pre-mature chronic health problems or perhaps a fatal disease. The goal of my work is to create and share delicious, satisfying, easy-to-prepare, energy and health sustaining cuisine, and educate people about the impact of their food choices in order to promote a better quality of life. Currently, my new recipe book, Better food for a Better You, is available in hardcopy and now in e-pub formats on iTunes (iPad format) and Barnes and Noble (Nook reader) with over 70 recipes. It's a collection of whole-food, plant-based, and gluten-free recipes using local, fresh, and organic ingredients, and contains several informational resources on maintaining a healthy way of life.
In food demonstrations, I encourage others to have fun preparing meals at home and share my passion and enthusiasm for delicious and healthy cuisine. Given the proper nutrition and healthy well-being, your body has an incredible ability to heal itself and it's your responsibility to keep it healthy. After all, who else has to live in it but you?